You are Incredible. You Got this!

Hoodlum Fang stands with you. With quality handmade products, original prints designed in house and standing up for what's right! Quality is of the utmost importance, each garment is handmade with care and dedication by the sole founder and creator, Chlo. With print designs unlike anything you have seen before, digitally designed in house by Chlo, Hoodlum Fang stands for boldness, confidence and strength however you wish to manifest it.

Hoodlum Fang originated from founder Chlo's desire to find fitness wear that was not only functional to fit their body, but to also be comfortable and host some killer prints. Sick of buying fitness wear that would inevitably end up in the bottom of the wardrobe after one unsuccessful workout session or too many icky sensory issues flaring up from wearing it, they set out to make their own fitness wear to fit their body. Taking the skills they had learnt from their time at university they set to work. It was only through speaking to their pals from roller derby, they soon realised that they weren't the only one struggling to find functional, well fitting fitness wear that was built to last. They felt they could help and from that Hoodlum Fang was born.

Years later, Chlo took up pole dancing as a way to get fit and soon realised that their new pole friends wanted pole shorts in their iconic prints. Hoodlum Fang now thrives in the Pole Dance community, producing new and fresh garments for a growing community of badasses. There is something for everyone at Hoodlum Fang from shorts for beginners who want security and function in their workout wear to the seasoned pole dancer who wants to bring a sultry style to their outfit. Catering for all shapes and size, from standard sizes to custom fit available at no extra cost. Hoodlum Fang stands with badasses who want to move their bodies, do what they love and also look incredible while they do it.
About Chlo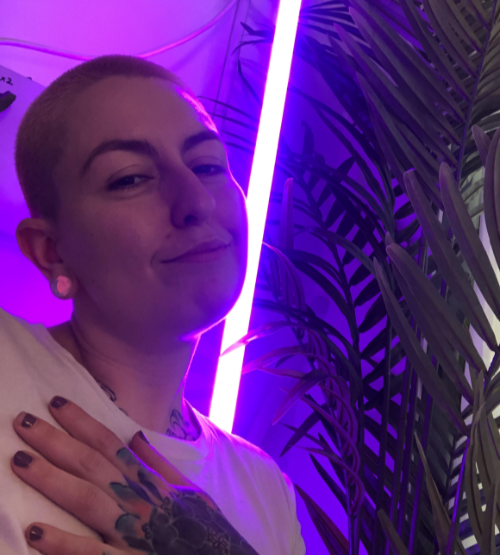 About Chlo, owner and founder of Hoodlum Fang. Chlo is a heavily tattooed non-binary bald babe who lives in Portsmouth, UK with their two cats Mr Pickle and Miss Dolly.

They spends most of their time pole dancing and cuddling the aforementioned cats, sometimes at the same time, and tending to their house plants.

You can find Chlo on instagram where you can check out their freestyle pole adventures, online classes, pictures of their fur kids and newbie gardening skills. Follow them at @chlo_a_mood. Hoodlum Fang is solely run by Chlo and is a true one person run operation.
You can also access their online classes, private pole lessons and other services they offer outside of Hoodlum Fang HERE!